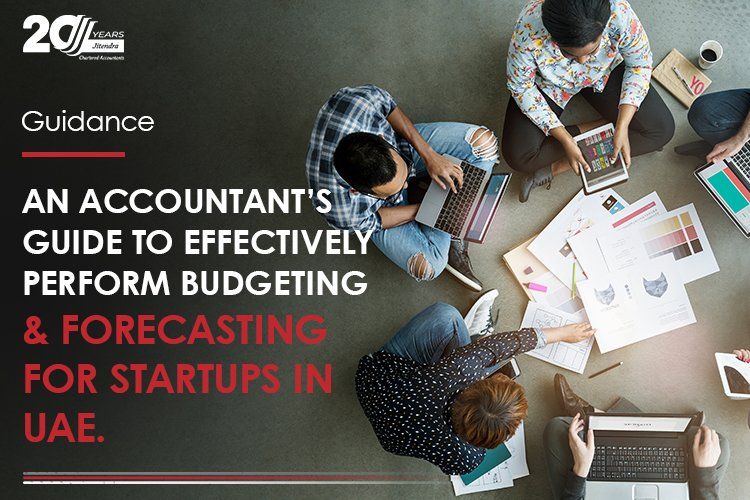 An Accountant's Guide to Effectively Perform Budgeting & Forecasting For Startup in UAE
Every single dirham counts in a startup budget as the majority of small business entrepreneurs start with scarce resources and money. However, most startups adopt aggressive growth-hack measures to make maximum impact with little money. This means the startups can't afford to create weak or vague financial planning. Unfortunately, a majority of startup owners don't bother to create an official budget for their company. Startups can, however, circumvent this situation by hiring accounting firms in Dubai.
A startup budget can be simply defined as a breakdown of how the business owners plan to use their capital to cover expected costs. Budgeting is inevitable for all startups, whether they are pre-funding or a later-stage companies. A budget is a roadmap that gives you a realistic projection of how much money you will need to move forward. Avoiding that roadmap will make you run out of cash, or you may end up spending money unwisely. Most owners find the process of creating budgeting daunting, and that is why we have listed a few effective tips to create budgets and forecasts for startups. Read ahead:
1. Set a Target Budget using Your Best Accounting Tools
Entrepreneurs can create their own budgets using the best tools available. In the earlier times, business owners used to perform this manually, but that era is gone. They can speed up the process of budgeting with the help of robust accounting software.  Once the accounting software is selected, an upfront budget goal can be set up, which will help you tally up your 'must-have' and good-to-have purchases. You should also factor in the emergency fund. It is advisable to start with the expenses while creating a budget as they are easier to predict.
2. List the Key Startup Costs
Startup costs are the costs that you incur before launching the company. Startup costs are composed of expenses incurred and assets purchased before the company's launch. We can categorise the startup costs as startup expenses and startup assets. Startup assets include inventory, computers, furniture, vehicles, property, and security deposits. Startup expenses include fixed or variable expenses such as rent and payroll. Other forms of startup costs include office space, trademarks, and patents. Consult with accounting firms in Dubai to understand how to account for startup costs and startup expenses.
3. Determine Fixed Costs of the Company
In the next step of budgeting, entrepreneurs need to estimate their fixed costs or overhead costs. Fixed costs are business expenses that remain more or less the same every month. Some common forms of fixed costs in a startup include rent, payroll & benefits, website hosting charges, internet and phone services etc.
You will also need to budget the spending related to each fixed cost. For instance, if you hire a social media executive for your digital marketing department, you would be required to spend beyond salary and benefits. The executive will require job-related equipment, a desk, marketing software, and a camera & editing suite for social media content creation. Accounting firms in Dubai can help you with better budgeting &forecasting.
4. Estimate the company's variable costs
Variable costs are business expenses that increase or decrease in proportion to sales and production. Such costs rise as production increases and fall when production decreases. Since they fluctuate, such costs typically don't have a fixed monthly cost. Some of the common examples of variable costs are raw materials, advertising spending, utilities, transportation, shipping costs etc.
5. Calculate your monthly revenue
In this step, entrepreneurs should forecast their earnings for each type of income source. You can create an optimistic projection and a conservative projection. You can estimate how often the customers will buy the goods or services produced by your company. This can be estimated using factors like your total addressable market, potential market share, and current market conditions. Monthly sales estimates can also be derived using break-even analysis. There must be a realistic approach towards factors that would limit monthly revenue growth. Consult with accounting firms in Dubai for better results.
6. Tally up your total costs, then review and adjust
Next, you have to add the monthly cost estimates into the budget to determine how much money you need to get started. Ensure you have created allocations for overspending and emergency funds. Determine if there are any costs you can eliminate, minimise or save for later. For instance, decide if you can use a co-working space instead of a costly physical office or find pre-owned office equipment. Budgeting can be made effectively with the help of accounting firms in Dubai.
Consult with the Best Accounting Firms in Dubai, UAE
A startup budget is the first line of defence for an early-stage business. It's a flexible action plan that lets you adapt to changes and anticipate cash shortfalls. And if you take the time to make a well-defined budget, you already have the edge over two-thirds of the competition. However, busy entrepreneurs may not have the time to accurately set a budget. This is where the best accounting firms in Dubai, such as Jitendra Chartered Accountants (JCA), comes in handy for you.
Outsourcing your accounting function to JCA will let you focus on your core competencies instead of worrying about complex matters such as budgeting, taxes, and other compliance requirements. We can help you meet intricate requirements such as VAT return filing, Ultimate Beneficial Ownership (UBO), Economic Substance Regulations (ESR) etc. JCA has over 20 years of experience in the UAE, and your company can make the best out of it. Call us today to ensure you are following the best accounting practices.