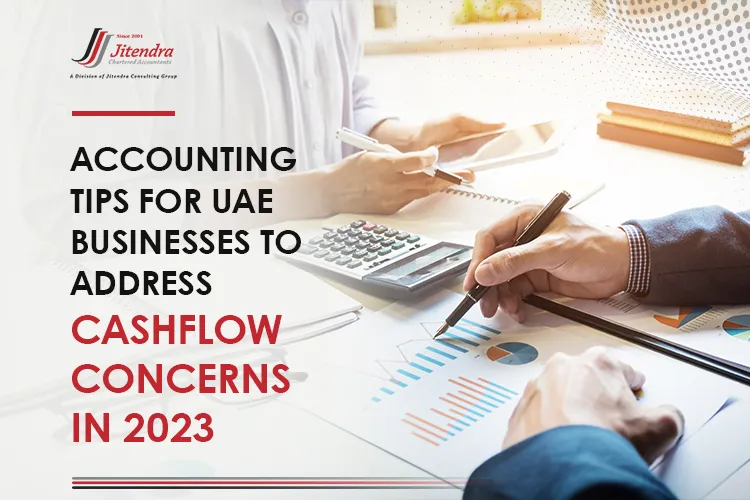 Accounting Tips for UAE Businesses to Address Cash Flow Concerns
Poor cash flow management can endanger the financial health of any organisation hence business owners must treat cash flow as their top priority. Irrespective of the size of the business, company owners must optimize their accounting processes, which will give them a better direction in achieving positive cash flow levels. If you are struggling to overcome cash flow issues, accounting firms in Dubai can help you. The following tips can help you mitigate risks to your company's cash flow:
Improve the Inventory Management
Having an excess inventory will adversely affect your cash flow management strategies. Such a situation will make you struggle with out-of-season or expired stock, and result in significant waste, unnecessary storage, and insurance costs. On the other hand, inadequate stock can also lead to missed sales and unsatisfied customers.
The key departments in your organisation should collaborate accordingly to determine optimal stock requirements and decide on standard rules for effectively managing inventory. You can also look to implement a robust procurement automation solution to come out of this situation unscathed. Accounting companies in Dubai can advise you on optimising your inventory management strategies.
Wisely Select your Suppliers
SMEs often go the easiest route by choosing suppliers that offer the cheapest price. However, while doing so, you need to avoid compromising on product quality or additional services associated with them such as the delivery time. For example, you may have to wait long to receive the goods if delivery time is not a part of your planning. It will also affect the cash flow of your business.
You should also take care of minimum and maximum order quantities. They might give you considerable savings initially but will often require a greater cash outlay and increases the risk of having too much stock in your inventory. You should try to maintain a solid working relationship with your suppliers and regularly keep track of their performance. A healthy relationship with a supplier is key for ensuring flexible payment terms, consistent quality, and prompt delivery.
Focus on Data Analytics and KPIs
Data analytics is essential to compare budgets with expenses in real-time, determine consolidation opportunities in your supply chain, and reach more strategic decision-making to arrange short and long-term costs. It will also help you ensure that your team members adhere to internal policies and practices. Internal performance KPIs can monitor key metrics like the percentage of invoices paid on time and correct three-way matches. Companies lacking these data will be struggling to use the right KPIs to measure and adjust every part of the procurement ecosystem. Accounting firms in Dubai can provide you with further advice in this regard.
Negotiate Early Payment Discounts
In many companies, the procurement teams and vendors will have different agendas for cash flow management. The procurement team may wish to hold onto money as long as possible while vendors seek to expedite the customer payment process. It is advisable to negotiate early payment discounts with suppliers and use an automated accounts payable tool so that you can speed up your invoice lifecycle and source early payment discounts more regularly with savings ranging from thousands to even millions.
Automate Your Invoice Processing
In 2023, you must adopt practices that align with the latest trends and ensure convenience. Manual processing of invoices is time-consuming and costly. You can adopt the latest automation solutions so that you can minimise processing costs and lifecycles, save money, and improve cash flow management. Companies providing accounting services in Dubai can advise you on the advantages of automating your invoice processing.
Go for E-payments if Possible
Cheques have been the most common payment option used by businesses and vendors. However, by 2025, 80% of buyer-supplier transactions are expected to take place digitally. B2B organisations also need to leverage robust e-payment tools to ensure greater efficiency, control cash flow management, and allow for saving for a long time. But you can still use the cheques, like issuing a cheque today, collection by a supplier in a day or two and the deposit on the third day, this will give you a small cash flow for two or three days.
Move to a Digital Procurement Platform
You should invest in the latest digital technologies like AI and advanced analytics to considerably increase your business cash flow. A dedicated digital procurement platform will have a centralized and cloud-based mobile-friendly platform, assistance with electronic invoicing and automatic payments based on specific criteria, etc. You may think such solutions are costly but transitioning into a digital procurement platform may improve your company's cash flow management and lead to greater savings in the long run. It will also minimise waste, costs, and environmental issues often associated with paper-based processes.
Consult with the Best Accounting Companies in Dubai, UAE
Having a strong cash flow management strategy is essential for the survival of any business amidst a volatile economic condition. However, you can save your business by availing advice from the best accounting firms in Dubai such as Jitendra Chartered Accountants (JCA). We are one of the leading providers of accounting services in Dubai with over 20 years of experience. Apart from accounting & bookkeeping, our services also include VAT registration and return filing, UAE corporate tax advisory, UBO, ESR, AML-CFT compliance assistance etc. Contact us today for a comprehensive accounting solution for your business.