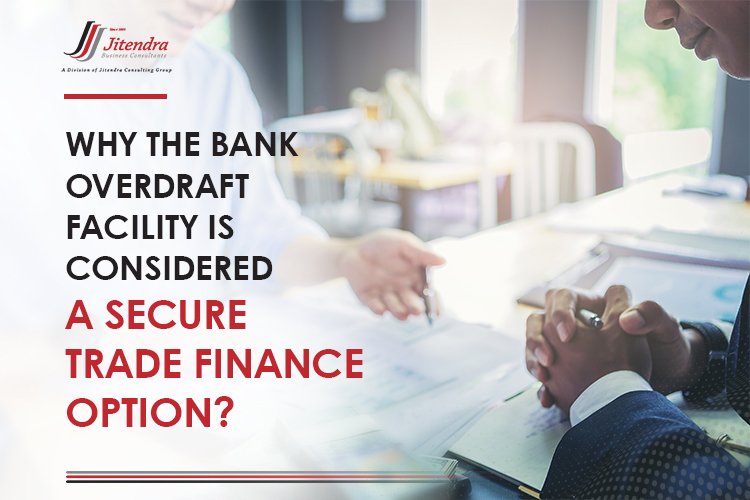 Why the Bank Overdraft Facility Is Considered a Secure Trade Finance Option?
Business overdraft facilities (also called bank overdrafts) form an integral part of corporate finance services in Dubai as it offers a secure finance option for both SMEs and big corporate entities. Businesses often apply for bank overdraft facilities through corporate finance firms in Dubai when their cash flow is tight and need to access additional funds to meet their commitments.
Business overdrafts become the right option for business owners who seek extra funds but don't want to commit to a full business loan. Bank overdraft facilities in Dubai offer a higher degree of flexibility over many other options of corporate finance in Dubai and this is precisely why it is considered a secure trade finance option. If you are planning to use a bank overdraft facility in Dubai, read ahead the following article that covers some critical information you must know:
What is a Business Overdraft?
A business or bank overdraft is a fixed amount of money a bank offers its customers when their account falls short of money. In an overdraft option, the bank makes available a set amount of money when you spend more than the balance in the account. The customer will be able to avail of funds even if the account has no money or insufficient funds to cover the amount of withdrawal.
However, depending on the bank, the interest rate may vary and will be added on each day the account is overdrawn. Moreover, most banks will charge a fee per overdraft. However, corporate finance companies in Dubai can easily arrange an overdraft facility at attractive interest rates for business owners.
When Should You Use a Business Overdraft?
Most entrepreneurs opt for bank overdraft facilities in Dubai when they experience cash flow fluctuations. Some common situations when business owners use business overdraft facilities are listed below (Remember, this is not a comprehensive list as there can be plenty of other reasons as well):
A business undertakes a long-term project but will get paid only after finishing the work
Sales of the company are seasonal but they need to pay the staff and purchase inventory throughout the year
An entrepreneur opens a new business but needs to cover expenses before starting earning an income
Customers fail to pay invoices on time but the company needs assistance until the cash flow recovers
How Does a Business Overdraft Work?
When you apply for a business overdraft facility in Dubai, the bank provides you access to a permanent line of credit which you can dip into as and when you require it. It will trigger interest repayments but the applicants need to pay interest on the amount spent. For short-term borrowing, it means that the total cost may be lower than an equivalent loan. The interest will be incurred on the used amount only and the customer has the option of making partial repayments. This could be a big attraction for business owners who worry about the costs associated with other types of borrowing.
Mainly businesses can avail of two types of bank overdraft facilities in Dubai: formal and informal. A formal overdraft is agreed in advance where the applicants will have a limit on the borrowing with an agreed interest rate. In the informal overdraft facility, the bank will cover the cost if the customers spend beyond their account limit with no formal overdraft facility in place. The absence of formal arrangement means the cost will be higher and the repayment window will be higher. Consult with the best corporate fiancé firms in Dubai to easily apply for a bank overdraft facility.
What Are the Benefits of Having a Business Overdraft Facility?
Applying for a bank overdraft facility through corporate finance companies in Dubai comes with a diverse range of benefits. Most importantly, business overdrafts help companies that lack consistent cash flow or require additional funds to cover a bill. Other significant benefits of applying for overdraft facilities are listed below:
Instant Access: A business overdraft can be instantly availed without a long waiting time
Secure Financing: A Bank overdraft offers security to companies in case they require to cover a bill or purchase more stock
Relatively low cost: Even though a business overdraft comes at a cost, the customers need to pay interest only on the amount their account is overdrawn
High rate of approval: Corporate finance firms in Dubai can help the businesses have quick approval for their applications
Ability to pay off debt when cash flow allows: Usually, the businesses will be allowed to repay the borrowed amount when they have sufficient funds to do so. However, on some occasions, the bank may demand repayment.
What Are the Key Criteria to Get a Bank Overdraft Facility?
Banks analyse several factors before approving a business overdraft application in Dubai. Businesses can navigate such approval criteria by using corporate finance services in Dubai. The below list will enlighten business owners on some of the key factors the banks will look at before granting an overdraft facility:
How long the company has been in business
Turnover of the company
Whether the company has any equity in a property or other assets to secure a loan
The reason to apply for the business draft facility
Consult with the Best Corporate Finance Firms in Dubai, UAE
Businesses will be forced to apply for a bank overdraft facility in Dubai when they need to meet their commitments amidst a cash flow shortage. In such a situation, it is advisable to use corporate finance services in Dubai to quickly obtain approval from the relevant bank. Jitendra Chartered Accountants (JCA) is one of the leading corporate finance firms in Dubai with an impeccable track record of providing trade finance facilities to companies irrespective of their industry and size. JCA has a team of dedicated corporate finance advisors in Dubai who can help the business with robust trade finance options. Consult with us today to obtain the best corporate finance solutions you can count on.