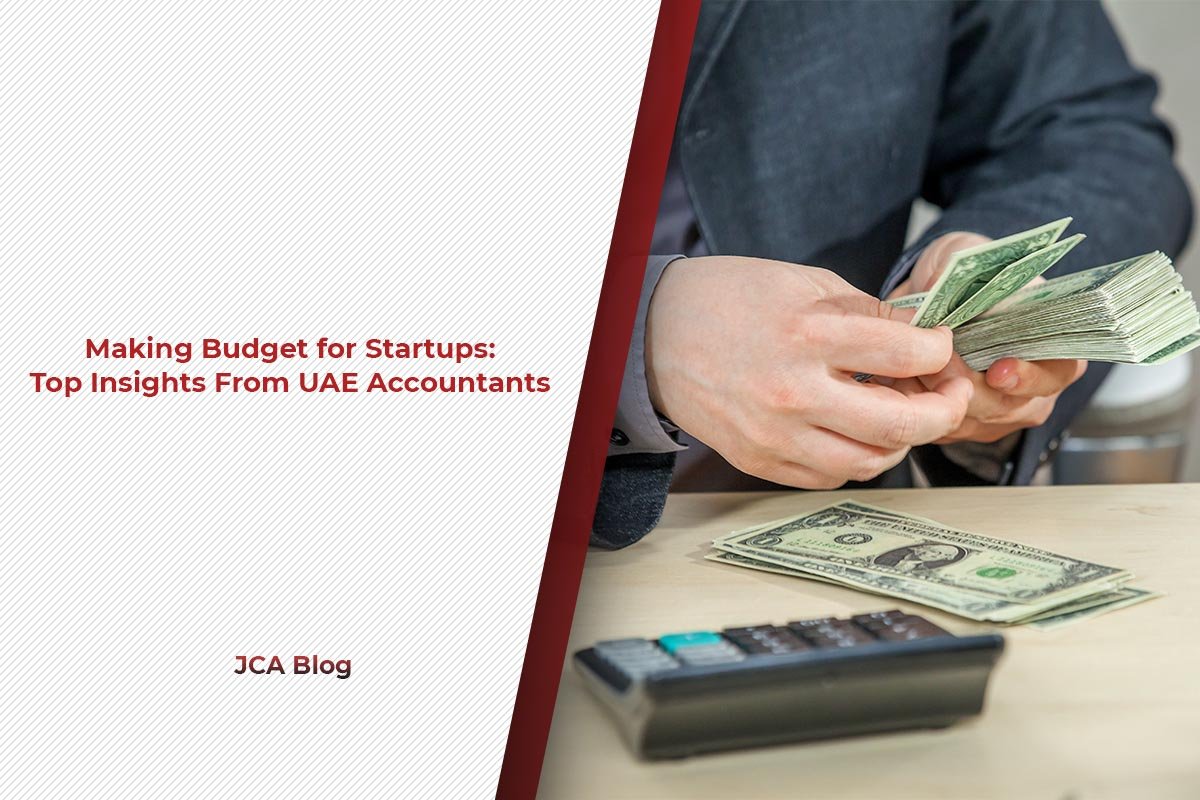 Making Budget for Startups: Top Insights From UAE Accountants
Preparing a solid budget is essential for the success of every business including startups. A budget, in essence, forms a foundational framework for your company finances. It details past performance and provides you with a tool to forecast the fiscal years, or a given period, with a view to assets, revenue and expenses. Companies can create an effective budget for their business with the help of accounting firms in Dubai.
Budgets are essential for startups to set goals, priorities and spending caps. A robust budget details where funding originates and the areas where new strategies might bring revenue. If your startup lacks an in-house accounting team, outsource the budget preparation responsibilities to the best accounting companies in Dubai. Meanwhile, this article will help you with some key insights about budgeting. Let's explore.
Performance Indicators of Business Strategy  
The items that demand the most funding in your startup will be the high-priority items such as the sources of revenue and the different types of expenses. These items need precise bookkeeping and serve as performance indicators of the overall business strategy. These should be taken into account while developing a budget with the help of the best accounting companies in Dubai.
The Master Budget 
The best accountants will tell you that a budget must break down revenue and anticipated expenses by month, by quarter or fiscal year. It should include a separate budget for each department of the startup. However, it depends on the size of the business. These departmental budgets should also be broken down by month or by quarter.
Together, all these departmental budgets will form your master budget. The master budget is a comprehensive financial plan based on the overall strategy of your company. It is composed of sub budgets called the operating budget and the financial budget. Accounting firms in Dubai will help you have an easier time planning the budget for your company.
Budget to Evaluate Company Performance 
Budgets can also be used to evaluate the financial performance of your company across a given period. There are some common types of budgets used to evaluate the performance of your company. They are:
Static budgets 
These are certain types of operating budgets that utilises historical financial data to budget for revenue and expenses expected in the next given period. Static budgets are mostly used by small firms.
Performance-based budgeting 
A performance-based budget utilises the inputs and outputs per unit of product or service to bring about utmost efficiency.
Zero-based budgeting 
A zero-based budget starts from zero every given period and builds a new budget based on the conditions at that time. It uses internal and industry financial data to create the budget.
Variance analysis 
In this budget, the accountants calculate actual and expected values for every revenue and expense item. You can seek the assistance of the best accounting & bookkeeping firms in Dubai to create robust variance analysis budgets.
Budget to Obtain Financing 
Obtaining finance or investments is the most important goal for every startup that languishes in the pre-funding stage. The faster the investments, the lesser struggle for entrepreneurs. Startups that have a history of making sound, detailed budgets and adhering to them is key to show lenders or potential investors that you can create a solid business plan and make it work.
Benefits of Business Budget Planning 
A startup that ignores the importance of developing a budget is bound to face a wide range of problems. You will be flying blind if you are ignorant of the company's key aspects such as how much revenue to expect or expenses to plan to during a given period. If your startup turns a blind eye to budgets, it will shut shop within the first two years after its launch in Dubai.
On the other hand, the benefits of business budget planning are varied. Given below are some of the most critical advantages:
A budget lets you know the financial health of your startup
Budgets help you in strategic planning such as deciding when to expand business
A strong budget is a key to attract investors
Budgets help you to prepare better for tax compliance ( VAT)
How Can Jitendra Chartered Accountants Help you? 
A detailed and realistic budget is an essential weapon that powers your startup to success. A well-prepared budget offers you key information that will enable your startup to operate within your means, managing unexpected challenges, and turning a profit. As a busy entrepreneur, you may not be able to come up with strong solutions for your budgeting issues. Here's where the assistance of accounting firms in Dubai such as Jitendra Chartered Accountants (JCA) will come in handy for you.
JCA has a team of efficient accountants who will ensure your startup is on a strong foot. Apart from guiding you on budgeting, our team will ensure that your financial records are maintained properly and in compliance with UAE laws. If JCA is by your side you won't be worrying about VAT return filing, Economic Substance Requirements and maintenance of real beneficiary registers. If business success is your ultimate goal, JCA can ensure you achieve it faster.