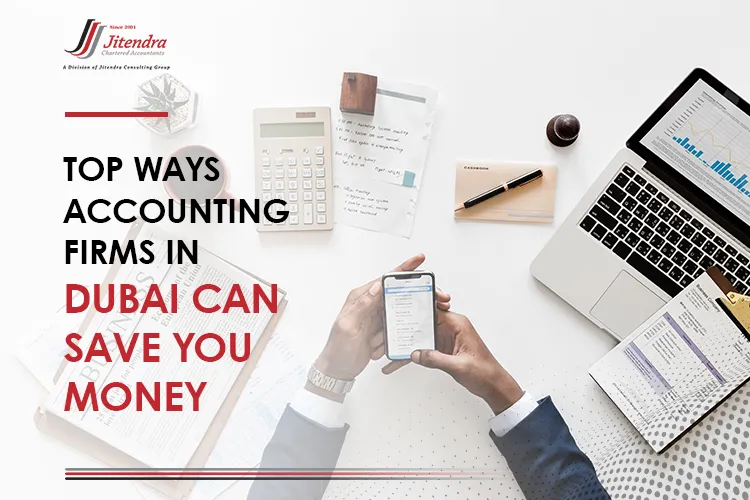 Top Ways Accounting Firms in Dubai Can Save You Money
Many small business owners downplay the significance of hiring accounting firms in Dubai, believing that they can save money by handling the financials themselves. While learning the accounting basics may benefit you personally, it may not be good for the company if you try to single-handedly manage bookkeeping, cash flow management and your tax obligations. Leaving your books to accounting & bookkeeping firms in Dubai will free up time so you can focus on serving your clients and implementing growth plans.
Here are a few ways accounting companies in Dubai can help you save money that you can reinvest back in your business:
Tax Advice and Planning
The costs related to taxes can be one of the biggest expenses you may incur as a business. You need the help of accounting firms in Dubai to get your tax planning under control, apply for all the relevant tax incentives and ensure you minimise the taxes on your profits. Regulations related to tax can be a complex maze and you may find it tough to stay updated about all changes to the law, particularly as your tax position changes based on the structure and location of your business- LLC, sole establishment, mainland, free zone etc.
Apart from the Value Added Tax (VAT), investors are now also required to consider the impact of UAE corporate tax on their businesses. By advising on VAT and corporate tax provisions, accounting companies can significantly cut your tax spend on the business. Accounting firms can also save your business money by helping you to meet tax deadlines and avoid penalties. In this way, you can save a lot of money by paying only what you're legally required to pay.
Cash Flow Management and Advice
It may have become a cliché but the phrase 'Cash is King' is still relevant to all businesses. You need to balance the cash inflows and outflows from your business, to have the liquid cash to pay your bills, cover your payroll costs or cover your operational expenses. Accounting companies in Dubai can show where your money is going out and from where it is coming in. It will help you to achieve the ideal positive cash flow position.
Cost Control and Spend Management
Reducing your cash outflow is essential to better your company's cash flow. The best way to achieve this goal is to focus on cost control & spend management, minimising your expenditure, cutting down unnecessary costs and negotiating better deals with your suppliers. The more you cut costs down, the better your cash flow will be and it will become easier for your business to thrive, grow and become more profitable. Accounting & bookkeeping firms in Dubai have a bigger role to play in helping you achieve this goal.
Forecasting and Financial Modelling
Accounting companies can build you a full financial model once they get a good grasp of the key financial drivers of your business. This enables the accountants to change the variables, run different scenarios and forecast your cash flow, spending, aged debt and revenue. You could get a clear understanding of the path ahead when you can project these numbers forward. And this is invaluable in the challenging economic times that the world is going through at present.
Better Management Reporting and Information
The efficacy of your decision-making process hinges upon the information you have available to you. The reliability and accuracy of the available information decide whether the decision you made will fall or stand. Accounting firms in Dubai can provide you with detailed management accounts, including a summary of the key changes within the financial period. Getting this key information helps you to save money, make sound decisions and keep the revenues flowing into your business.
Accountants can Identify Opportunities for Growth
Accounting companies can keep your company's records up-to-date so you will always know the figures of your business. Properly maintained records and data can help you ascertain how long you could survive if there was a recession, where you can cut down expenses to save money, and where you should be delegating most of your budget if you want to grow.
Accounting Firms Assist in Gaining Funding
Securing finance from banks is a tough nut to crack and it will take a lot of time. Time is money and accounting companies in Dubai can advise you on how to secure loans and financing. This can be done by helping you to create a robust business plan, budgeting and assisting you with the loan process.
Hire the Best Accounting and Bookkeeping Firms in Dubai, UAE
Accounting & bookkeeping firms in Dubai can do much more for your business than simple bookkeeping. Accounting firms in Dubai can help you save money by offering tax advice & planning, advice on cashflow management, better reporting, securing corporate financing etc. Hire the best accounting companies in Dubai such as Jitendra Chartered Accountants (JCA) and you'll be doing a lot to help increase your chances for long-term growth and success.
JCA is one of the best accounting & bookkeeping companies in Dubai with more than 20 years of experience. We offer bespoke accounting services in Dubai including tax advice, audit, Economic Substance Regulations (ESR), ICV certification, Anti-Money Laundering (AML), Ultimate Beneficial Ownership (UBO) etc. Hire JCA today to ensure your business is on the right growth track.