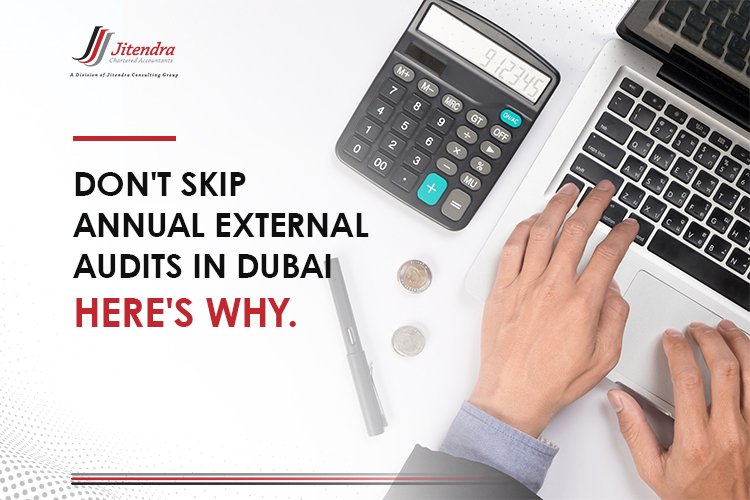 Don't Skip Annual External Audits in Dubai: Here's Why
An external audit is the best level of assurance businesses can have over their financial statements. Yet most companies perform annual audits in Dubai only if it is a legal compulsion or requirement from the Bank. Audit firms in Dubai recommend companies to voluntarily conduct an audit even if they are not legally obliged to do so. Submitting audited financial statements is mandatory in some Dubai free zones but is voluntary on the mainland.
However, getting the books of accounts audited is essential for the success of a company. An external audit enables business owners to minimise risk, improve systems and processes and ensure their company's accounts are free of error. Apart from these, their many reasons you should not avoid external audits in Dubai. Read ahead to know what those reasons are:
Audit Adds Value To Your Business
A company can leverage the competitive advantage of an annual audit by strengthening the organization's internal controls. Conducting annual audits makes it easy for companies to attract external stakeholders and investors. An audit ensures that the company's financial statements are free of any major errors. Companies may excel in improved decision-making, future growth, and excellent business practices by availing of the best audit services in Dubai.
An External Audit Provides Credibility
A company's credibility in the wider market gets a boost if its financial statements are audited by an external auditor. Companies aiming to raise funds, future growth or exit through business sales can achieve their business goals by getting their accounts audited by the best audit firms in Dubai. Banks, governments and other lenders rely upon audited financial statements to determine a company's credibility.
An Audit Improves Internal Systems and Controls
When auditors in Dubai carry out the annual audit in your company, their focus is not limited to your numbers and finances. Auditors will gain a good understanding of your business and it enables them to analyse your business with a fresh pair of eyes. This fresh and unbiased perspective enables them to assess the systems & processes within the organisation and provide recommendations for changes or improvements.
An Audit Can Help Identify Weaknesses & Risks in a Business
Carrying out an external audit allows you to identify the weaknesses and risks inherent in your business. Recognising the weaknesses enables you to take preventative or corrective action and minimise the risk in your business. Good auditors have a commercial perspective and will be able to flag issues associated with things such as contracts, over dependencies in the business or weaknesses in systems and processes.
An Audit Can Give Shareholders Confidence
Companies with multiple shareholders or directors will require an independent review of the company's financial statements. An external audit can give all the shareholders the confidence that the company is being run well. The review conducted by auditors in Dubai will provide the shareholders with peace of mind that the company is free of issues such as fraud. This kind of reassurance by an external auditor is crucial as some shareholders may not be involved in the day-to-day running of the company.
Audit Helps to Bring in Investors
Getting strong investors on board is critical for startups and companies preparing for an expansion. However, potential investors look for credibility and transparency before giving the green signal to invest in your company. A properly audited financial statement is the most significant factor that can bring new investors into your company. Audited financial statements enable investors to evaluate your company's financial position and prompt them to make a positive decision.
Enable the Business Owners to Discover Errors
Having an annual audit allows the business owners to discover if their company's accounting process is error-riddled. Business owners won't be able to make better business decisions if their accounting process is riddled with errors. Due to such errors, the management won't be able to review the company's historical financial information and discover trends. Discovering trends is vital for running a business successfully as it allows business owners to assess future production output or predict sales for the coming months. Carrying out periodic annual audits will also help the management ensure the accounting process is in accordance with accepted standards.
Ensures Legal and Regulatory Compliance
The UAE is more or less an open economy with less-stringent regulatory requirements. Yet, the country has introduced a set of new regulatory requirements over the years to match the global standards. Some of these regulatory requirements include Value Added Tax (VAT), Anti-Money Laundering and Combatting Financing of Terrorism (AML-CFT), Economic Substance Regulations (ESR), and Ultimate Beneficial Ownership (UBO). Failing to comply with these regulations will attract hefty penalties. However, audit firms in Dubai can ensure whether your company has complied with such mandatory requirements.
Why Should You Hire the Best Audit Firms in Dubai, UAE?
External audits are critical to the decision making process of a company as it provides comfort for the management over the accuracy of books of accounts apart from detecting errors in the accounting system. External audits add value to the business, increase investor confidence, and make the companies less vulnerable to fraud. To achieve a robust external audit, companies should hire experienced audit firms in Dubai such as Jitendra Chartered Accountants (JCA).
Apart from helping the companies meet any mandatory obligations, availing of JCA's audit services in Dubai is a proactive way to cut the risk and enhance the business strategy. JCA adopts a pragmatic, hands-on approach to the audit, which helps the entrepreneurs improve business performance. JCA's highly qualified Chartered Accountants in Dubai help the business owners achieve their business goals by challenging assumptions and resolving issues that could be holding their business back.