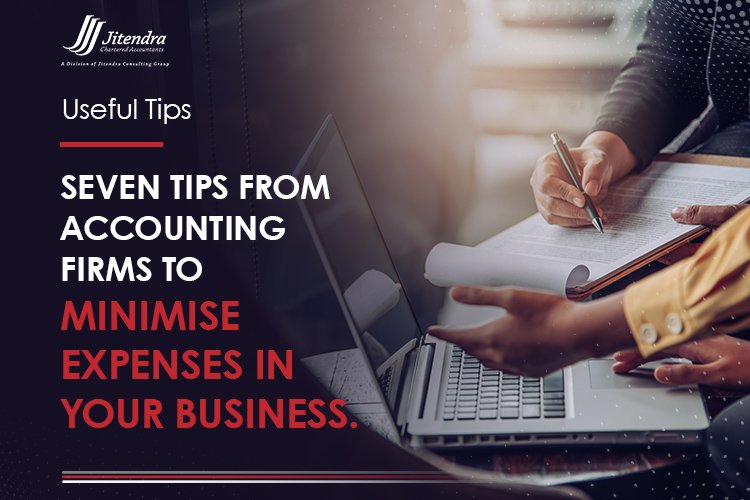 Seven Tips From Accounting Firms to Minimise Expenses in your Business
Rising business expenses are a constant concern for every entrepreneur. Controlling costs are critical as higher expenses will gradually eat away your company's profit. If you find it tough to control the rising expenses, it's high time you seek help from the best accounting firms in Dubai. They can suggest viable ways to cut expenses and boost business profits.
In the business world, there are two ways to boost the net income of a company. You can either increase the revenues or minimise the business expenses. By reducing costs, you can decrease the expenses on your company's income statement, which will in turn increase the net income. As the net income increases, you get more chances to reinvest into your business. You need to first analyse your company's expenses to see where reductions can be made and create ways to minimise the current costs. Here is a list of 7 tips to minimise expenses in your business:
1. Make a solid plan
You must assess where your business stands now and where you wish to take in the future. A well-designed road map is a vital component to accurately forecasting your expenses and providing for contingencies. For instance, if you plan to expand into a new market next year, you must build the related expenses into your forecast.
2. Track expenses diligently
You need to have a firm grip over your historic costs before planning for any future expansion. You must gather data effectively and efficiently to achieve this goal. However, tracking the data should not be an afterthought, it must be a critical part of your daily operations. You can seek the advice of accounting firms in Dubai to track expenses properly.
List all the expenses your company incurred in a month or several months. Categorise the expenses based on similar items. For example, the expenses for post-it notes and pencils are similar items as both come under office supplies. Note down anytime cash flows from your business into another source.
3. Benchmark against your industry
Benchmarking is the process of gauging the performance of your business against a competitor in the same market. Carrying out benchmarking lets you understand the performance of your business and its potential. You need to establish metrics meaningful to your business and comparable to the metrics used by your competitors. If you find the expense is high in certain categories, drill down. Investigate the reasons for this high spending and cut the costs to the industry norms. Accounting firms in Dubai can assist you in the process.
4. Manage variable costs
Analyse your company's past variable expenses and assess what percentage of sales they represent. Historic percentages are both good indicators of potential future costs and a benchmark to use in keeping those costs in line with selling activity.
5. Get tough on fixed costs
Business owners often become complacent when it comes to fixed costs as they are recurring costs and reflect the long-standing relationships with suppliers. However, you need to periodically test the market to know if you can get a better deal from competing suppliers. Accounting firms in Dubai recommend you to get two or three quotes regularly. You can send out a message that you're monitoring your costs by putting out a request for a proposal or a less formal method.
6. Invest in technology
In this age of digital transformation, it's imperative to invest properly in the latest technologies. Find out new technologies that may help your business to improve efficiency, increase productivity and minimise costs. For example, most companies in Dubai are now using cloud computing systems as opposed to in-house hardware that can be expensive to purchase and maintain. Consult with accounting companies in Dubai to find the right technology for your business.
7. Offer incentives to staff
Entrepreneurs must make the people within their organisation accountable for costs. It's recommended to set proper rewards for employees who find viable methods to minimise your company's expenses. This kind of approach creates a zero water culture within the organisation. It also inspires the employees to implement cost-reduction initiatives to stay on task and be creative.
Jitendra Chartered Accountants can Help you Cut Business Expenses 
Business owners must maintain tight control over both fixed and variable expenses to maximise cash flow and profits. We have discussed some of the top tips that will let you rein in expenses and prepare for unforeseen costs. You can use these tips as a road map but the assistance of accounting firms in Dubai such as Jitendra Chartered Accountants (JCA) may come in handy to properly implement it.
JCA is one of the leading providers of accounting services in Dubai with over 20 years of experience. We can take care of your key business requirements such as annual audits, VAT registration, VAT return filings, corporate tax preparation, ICV certification, corporate finance etc. JCA also helps you to comply with regulatory requirements such as Anti-Money Laundering & Combating Financing of Terrorism (AML-CFT), Ultimate Beneficial Ownership (UBO), Economic Substance Regulation (UBO), etc.