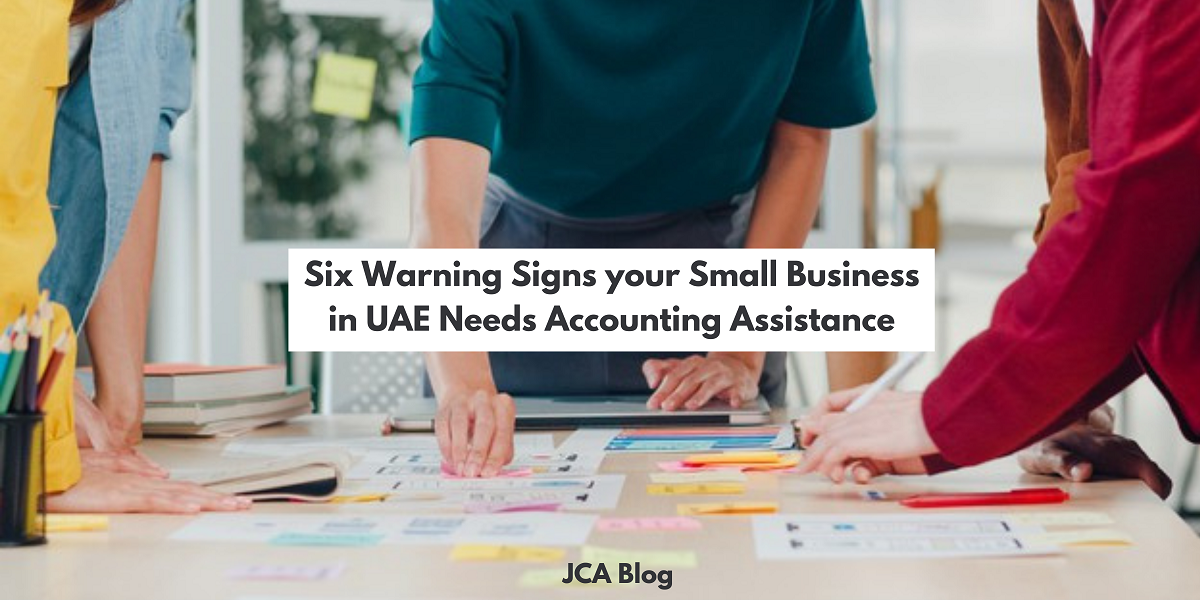 Six Warning Signs your Small Business in UAE Needs Accounting Assistance
An entrepreneur running a startup in the UAE has to tackle challenges ranging from funding to managing the daily expenses. Most of these entrepreneurs have a strong vision and resolve to accomplish their business goals. However, overlooking the importance of accounting & bookkeeping is a common mistake that push startups into trouble.
Entrepreneurs can spot the warning signs that indicate their startup is headed south owing to weak accounting practices. Startup owners should gain foresight to recognise these indicators and implement remedial measures. Getting expert assistance of accounting & bookkeeping firms in Dubai is a sure-shot way to reinstate your startup back in the top gear.
Sometimes, knowing the wrong way first helps you in choosing the right path to travel. Read about the following warning signs to understand when to enlist the help of best accounting firms in Dubai:
1. Accounting Distracts you From Doing Your Business
The pre-funding stage is the most challenging time for any startup as the entrepreneurs may opt for multi-tasking to cut the costs. Many solo entrepreneurs show misplaced-confidence to take accounting tasks into their own hands overwhelmed by the availability of robust accounting software in the market. As the business progresses, the business owners may start to regret their decision as they would have made a mess with the accounting system within the organisation.
Appointing an inexperienced accountant to rescue the company all of a sudden may also prove to be a wrong decision sooner or later. The moment you feel the accounting & bookkeeping tasks are distracting you from your core competencies, realise that it's a warning sign. Outsource your accounting requirements to the best accounting firms in Dubai before it's too late.
2. You Have No Clue about Accounting Process
You may have the confidence and resources to catapult your innovative business idea to success. But you are in trouble if your knowledge about accounting and bookkeeping practices are only nascent. It's a dire situation that warrants the appointment of an experienced accountant within your organisation.
However, you need to ensure that such an accountant will bring to the table valuable experience of working in a diverse range of industries. Most importantly, he or she will need to possess experience in working in your particular business sector. Try outsourcing the best accounting services in Dubai to make your startup journey easier. Working with accounting companies in Dubai not only help you cut the costs, but it can improve your accounting system with a different approach.
3. Your Business start to Grow at a Rapid Pace
Rapid business growth is what every entrepreneur or CEO is ultimately aiming at. A sudden growth in business makes you happy, but it is also a sign of equipping yourself to deal with the new demand. You may require more staff, inventory, more internal systems and processes. You have to make a strategy to ensure you can successfully meet the new requirements in the company.
When dealing with mountains of paperwork and number-crunching becomes necessary, you have to recruit a team of accountants to manage the transactions and invoices. Instead of spending money on building an in-house accounting team, a cost-effective strategy would be to enlist the services of best accounting and bookkeeping firms in Dubai. An accounting firm will help you in this situation by serving as a trusted partner whose sole focus will be on keeping your financials in order.
4. Revenue is on a Surge, but Profit isn't
As accountants know the financial health of your company, they can suggest your recommendations for improving the business by having an objective look at your finances. Sometimes, you may be experiencing an upsurge in the revenue, but profits remain stagnant. It means something is missing in your organisation's financial picture.
You need expert assistance to understand what's stopping your company from increasing the profits in line with the revenue surge. Accounting & bookkeeping companies in Dubai are the best resources to identify the problems and recommend remedial measures. Accounting firms will provide you with actionable insights that will enable you to steer your company in the right direction.
5. Your Financial Reporting is Not Professional
You need to take your accounting seriously if you are looking for new loans or potential investors. However, inconsistencies in your company's financial reporting might block you from getting the loans and future investments. Investors and banks need to gain an accurate picture of your company's current financial health, for which they depend upon financial reports.
The accounting and bookkeeping department in your company should ensure that your financial reports are devoid of any inconsistency. Train the in-house accounting staff to compile the reports as per the accepted accounting standards such as IFRS. If training the in-house accountants is not affordable, you may also hire the best accounting firms in Dubai.
6. Your Company is not Up-to-date with Tax, Audit
As a foreign investor, the UAE fell under your radar due to lower taxes and lack of stringent regulations. However, you need to know the UAE levies 5% VAT and audit reports must be submitted in some free zones. Also, you need to maintain the books of accounts for a period of at least five years to comply with VAT Laws, Commercial Companies Law, and regulations of certain free zones.
If your accounting department is not keeping you up-to-date with such legal obligations, you may have to face tougher penalties. Furthermore, recent regulations such as Anti-money Laundering (AML), Economic Substance Regulation (ESR), and Ultimate Beneficial Ownership (UBO) have increased the compliance burden on UAE companies. Since non-compliance attracts hefty penalties, it is better to hire the services of accounting firms in Dubai that provide a one-stop solution for all such requirements.
You Know the Warning Signs. What's Next?
We have listed here six warning signs that may put your startup in danger of business loss or hefty penalties from government authorities. If you think your startup is showing any of these signs, it is high time you hire highly qualified accountants in Dubai who can save your business. Since VAT, ESR, AML and UBO have also come into the picture, it is better to avail services of the best accounting & bookkeeping firms in Dubai such as Jitendra Chartered Accountants (JCA).
JCA has highly qualified Chartered Accountants in Dubai, UAE who can diagnose the issues with your accounting department and provide insights. We can take care of your books of accounts to deliver professional financial reports that will help you attract loans and investments. By availing JCA's best accounting services in Dubai, you can also ensure your company's financial health is in safe hands.