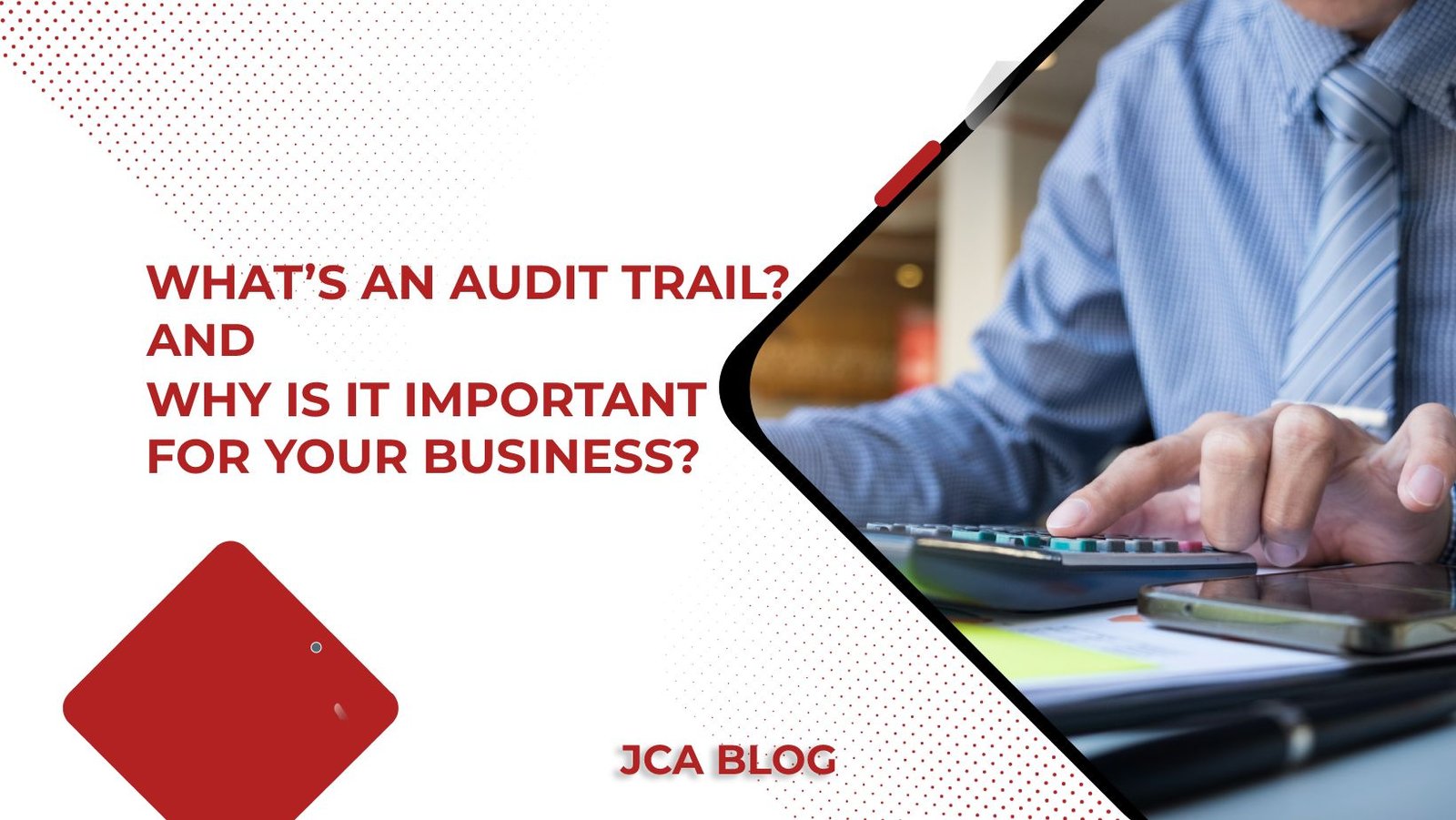 What's an Audit Trail & Why is it Important for Your Business?
Most business owners feel stressed when an external auditor raises a question to understand a particular accounting transaction better. You may also have trouble making sound business decisions due to inaccurate information in the financial records, but a proper audit log or audit trail would have saved you from such unforeseen situations.
An audit trail is a set of documents that helps you affirm the legitimacy of the transactions you record in your accounting books. The accounting documentation you keep for recording your company's transactions serves as the audit trail. With an audit trail, you can track a specific transaction to its source. An audit trail, electronic or physical, also helps you understand your company's past and present financial state. By hiring the best accounting services in Dubai, you can ensure proper maintenance of the accounting trail.
What does an Audit Trail Comprise of?
An audit trail is essentially a record of business events such as the generation of an order, a shipment delivery, filing of an insurance claim etc. Each record would contain information such as what exactly the event was, who was responsible for its creation and the day or time it occurred. Audit trails are used by businesses to verify whether or not an accounting entry is accurate. Industries that commonly use audit trails include healthcare, financial, accounting, and IT industries.
A few examples of documents you need to keep as part of your audit trail include:
Why is an Audit Trail Vital for Your Business?
It is important for you to have a strong audit trail due to the following reasons:
Detection & Prevention of Fraud
An audit trail makes it easier for you to identify and prevent fraud within the organisation. Using a trail of documents, you can validate specific accounting transactions which will enable you to prove the transactions are legitimate. Make sure that every payment is backed by supporting documents such as purchase orders and approved invoices.
A bank reconciliation should also be part of your audit trail. Having an audit trail not only helps you detect fraud but prevent it as well. An audit trail lets the employees know you are monitoring and tracking their operations, and they would see less opportunity for committing fraud.
Makes Auditing Less Stressful
Apart from helping you track accounting transactions, an audit trail is of great assistance to auditors at the time of financial audits. Auditors can use the audit trail to find and verify the company's activities. IF your company has a strong audit trail, the audit process will go smoothly for every person involved.
Usually, annual audits are considered to be stressful for business owners and managers. However, the presence of an efficiently prepared audit trail makes it less stressful for you. For example, imagine the auditors have detected an abnormal transaction in the account books and ask you about its accuracy. It would be tougher for you to validate the transaction without an audit trail. However, if an audit trail is there, the auditors can verify the transaction by checking the supporting documentation such as invoices. The assistance of accounting companies in Dubai would help you in properly maintaining an audit trail.
Enhances accuracy of Records
An audit trail is a robust solution to tackle the challenges posed by inaccurate financial records. Accurate financial information equips business owners, investors, and lenders to make sound business decisions. An audit trail provides you with a clear picture of the company's finances and ensures your books of accounts are accurate. Prepare a string audit trail with the help of the best accounting firms in Dubai.
Helps you Easily Secure Loans
If you are looking for a loan for your business in the UAE, the banks will ask for your business plans and financial statements. The banks would require proof of revenue and expenses to validate the information in the financial statements. An audit trail that comprises meticulous record-keeping would help you provide adequate financial information to the lenders.
Some banks may even ask you for an audited financial statement. Maintaining proper records of every transaction accelerates the process and helps you even minimise the cost of audit in Dubai. The assistance of the best accounting firms in Dubai would come in handy for maintaining a proper audit trail.
Reduce Challenges of HR & Payroll
Records of payroll and human resources are vital to the audit trail in general. The companies are required to maintain records of hiring, termination, pay and eligibility of the employee to work in the UAE. Violating these mandatory requirements would result in penalties from the labour department.
In an international market like Dubai, employee disputes are common. Dealing with employee disputes will consume your valuable time and resources. An audit trail will aid you in steering clear of such disputes. Keeping all the time, cards and other employee records is an effective way to eliminate the risks emanating from such disputes.
How Can Jitendra Chartered Accountants Help You?
Businesses need to properly record each accounting transaction in traditional methods or electronic forms to verify whether a transaction is accurate or not. Documents such as purchase orders, business invoices, written estimates and correspondence related to transactions are the most common documents that form the audit trail. Accounting firms in Dubai, such as Jitendra Chartered Accountants (JCA), can give you sound advice in creating a robust audit trail for your company. JCA has highly qualified Chartered Accountants in Dubai, UAE who can diagnose the issues with your accounting department and provide insights. We can take care of your books of accounts to deliver professional financial reports that will help you attract loans and investments. By enlisting JCA's best accounting services in Dubai, you can also ensure your company's financial health is in safe hands.