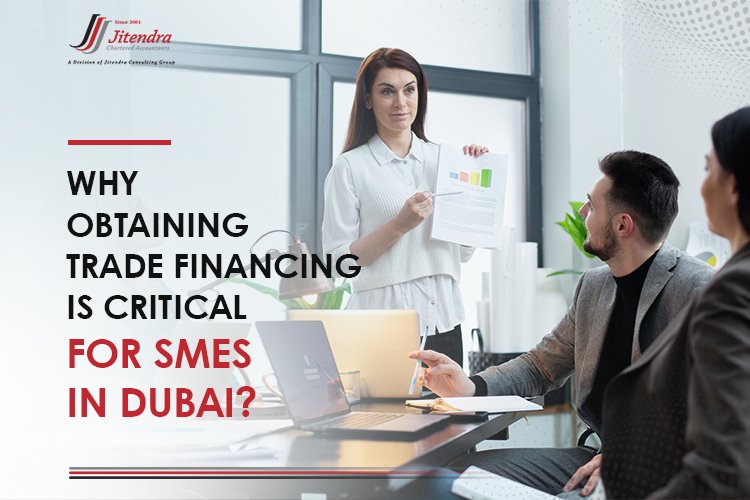 Why Obtaining Trade Financing Is Critical For SMEs In Dubai, UAE?
Getting a major merchandise order is critical for the growth of small businesses in Dubai. However, it will turn into a nightmare when the business owners fall short of adequate funds to pay for the manufacturing and delivery of the order. Inability to raise the funds on time means your company may lose the order, possibly destroying the relationship with the client. Small business owners can avoid such unforeseen events by availing of trade finance services in Dubai.
If your small business is stuck in such a situation, it is advisable to apply for trade financing in Dubai instead of looking for other fundraising options. In a trade finance deal, the banks will assess the credit rating of your customer rather than your company's. A customer with a reliable track record can easily land you a good trade financing deal. The following article details the key aspects of obtaining trade financing in Dubai.
How does a Trade Finance Deal Work in Dubai?
Before approaching the providers of trade finance services in Dubai, you need to understand how the process works. We can illustrate the process in the following steps:
Your company gets a huge order from a customer
You approach the providers of

corporate finance service providers in Dubai

who will forward the requirement to a bank they are partnering with
The bank check the credit history of the customer and approved the deal
A letter of credit will be arranged by the bank to pay the manufacturer of the goods
Apart from paying the manufacturer, the bank will also pay the cost of shipping the goods
The merchandise might be shipped directly to your customers or a third-party warehouse instead of your company
You can invoice the customer once they receive the delivery of the goods
If the customer initiates an immediate payment, the bank will collect the money after taking their cut. You can take the remaining profits from the sale transaction
Benefits of Availing Trade Financing Services in Dubai, UAE
Trade finance fosters the growth of a company by helping it secure funds to purchase goods and stock. Managing cash and working capital is essential for the success of any business. Trade finance services in Dubai help companies unlock capital from their current stock or receivables or add further finance facilities based on their trade cycles. Listed below are some of the key benefits of availing of trade finance services in Dubai:
Trade finance in Dubai is less costly compared to the alternative ways of financing. Since most institutions charge at the market rates, the cost will not be higher than a traditional bank loan
Trade finance eliminates the risk of payment and supply
Trade financing protects a company against global trade risks including political instability, currency fluctuations, creditworthiness, or non-payment issues of parties involved
By availing of trade financing services in Dubai, the exporter pa gets payment or receivables as per the agreement and the importer is extended credit to complete the trade order
Trade financing helps you to offer more competitive terms to suppliers and customers
It helps you to reduce payment gaps in your trade cycle, which is good for fostering supply chain relationships and growth
Trade financing enables you access to short to medium-term working capital using the underlying products or services being imported/exported as security/collateral.
Trade financing enhances a company's revenue potential as early payments facilitated higher margins
Businesses can request higher volumes of stock or place large orders
Trade finance enables businesses to be more competitive
Opting for trade finance services in Dubai helps businesses to reduce cash constraints or liquidity gaps – for suppliers, customers, third parties, employees or providers
Trade financing allows early payments, mitigating risk for suppliers
Why Trade Financing is Beneficial for SMEs?
SMEs are the backbone of the UAE economy but they often struggle to get bank loans due to the enhanced KYC norms set out by the lenders. The focus of trade finance falls more on the trade than the underlying borrower, which means it is not balance-sheet led. This feature even enables SMEs with weaker balance sheets to trade larger volumes of goods and work with big customers. Considering such a huge competitive edge, SMEs are advised to avail themselves of trade finance services in Dubai to meet their trade requirements hassle-free.
Choose the Best Trade Finance Services in Dubai, UAE
Availing of trade financing services in Dubai has become common among SMEs as it allows them to trade with local and international markets. We at Jitendra Chartered Accountants (JCA) emphasize delivering comprehensive solutions tailored to your specific finance requirements. Our corporate finance service specialists in Dubai possess the in-depth knowledge to help you assess emerging market risks and give you the confidence to execute huge local or international business orders. JCA provides integrated, innovative and reliable corporate financing solutions for both corporate groups and SMEs. By availing of JCA's corporate finance services in Dubai you can gain more control over exports, improve cash flow and manage risks associated with international trade.