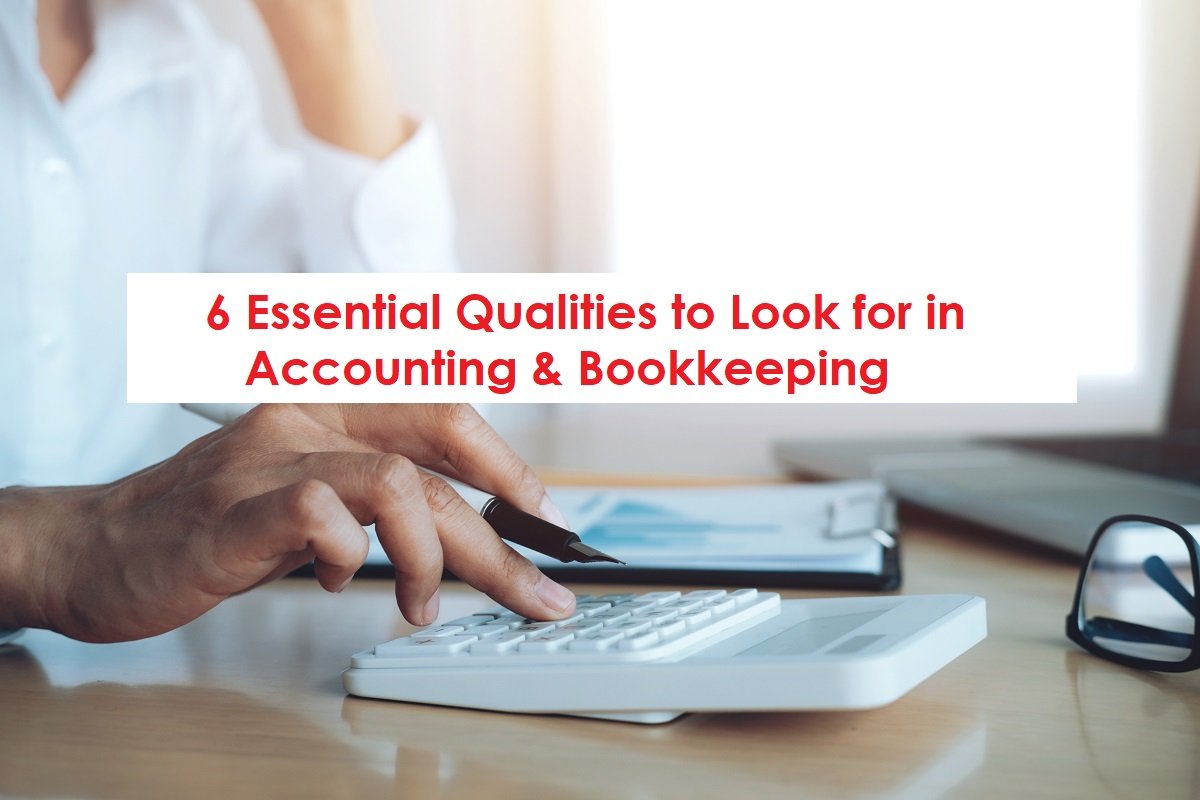 Six Essential Qualities to Look for in Accounting & Bookkeeping Professionals
Accounting & bookkeeping professionals handle the most crucial aspects of your business such as managing and maintaining the books of accounts, financial information and handling tax-related matters. Generally, the business owners either hire an in-house accountant or outsource their requirements to highly experienced accounting & bookkeeping firms in Dubai. Either way, you need to ensure that you get the best accounting & bookkeeping services in Dubai to make sure your organisation is complying with the UAE laws and regulations.
Before hiring an accountant in Dubai, you need to ensure that the professional possesses the following qualities:
1. Commendable Professional Expertise
A business owner who knows the importance of accounting & bookkeeping primarily checks whether the accounting professional possesses expertise in his field of knowledge with the relevant laws of UAE including International Financial Reporting Standards, VAT and other applicable laws to the company. A qualified professional ideally possess the key skills of accounting & bookkeeping such as maintaining records of financial transactions, posting transactions, reconciling of accounts. While hiring an accounting professional you should also test the latter's knowledge and experience in taxation (VAT, Excise tax), as well as he, should also be the approved Tax Agent with Federal Tax Authority (FTA).
2. Adept at Technology & Accounting Software
An ideal accounting & bookkeeping professional must utilise the latest technology and accounting software to provide robust services to his clients. Business owners should check whether the accountants they hire know how to make the best use of accounting software and other kinds of tech tools to streamline processes like invoicing, payments and payroll and which kind of software they are using for their businesses is an approved accounting software as per FTA or not. Reputed accounting firms in Dubai are equipped with highly qualified accounting & bookkeeping professionals who enhance the efficiency of their clients' business by leveraging the latest technology.
3. Experience in Your Specific Industry
Though the basics of accounting & bookkeeping practices remain the same, it may vary as per the requirements of various business sectors. If your business is related to the health & fitness industry, it is advisable to hire an accountant who is highly experienced in that industry. Specialisation in a particular industry will enhance the quality of accounting services in Dubai as you can get a more informed approach from the accountant. The promise of such an informed approach is a key reason why many businesses are outsourcing their accounting requirements to experienced accounting & bookkeeping firms in Dubai. And also before hiring a firm check whether the firm is dealing with the same kind of business clients or not which will make sure that your accounting is in experienced hands.
4. Excellent Communication Skills
Excellent communication is one of the key attributes that makes a good bookkeeper or accountant. Here, communication is not used in the restrictive sense of the ability to speak clearly. A good accounting & bookkeeping professional must be skilled enough to explain complex concepts to his clients in a simple way. He should be able to proactively follow up on tasks, ask key questions related to your business and must be willing to listen to what you say. In short, the accountant should ensure that he is not confusing the client with the accounting jargon.
5. Integrity & Professional Ethics
Shady people are not fit to be part of any corporate firm and it holds for the accounting profession as well. You need to ensure that your accountant is transparent with billing, pricing etc. Make sure that you don't need to constantly doubt over what value the accountant is adding to your business. If you have an in-house accountant who is unresponsive or shady, then it is high time to part with them and outsource services from the best accounting firms in Dubai. Working with a team of highly qualified professionals will ensure that your business is moving in the right direction.
6. Flexibility to Adapt to Various Working Styles
In a highly dynamic market like Dubai, you cannot expect all the businesses to have the same operating style. Some businesses may be working in unusual hours depending on the nature of the industry. Some companies may prefer to communicate with the accounting professional only through emails or through virtual communication tools like Zoom. The accountant you hire for your business should understand your style and deliver accordingly. Sometimes an in-house accountant may not meet such unusual requirements but outsourcing the services to well-known accounting & bookkeeping firms in Dubai is a better solution for this requirement.
Work with the Best Accounting & Bookkeeping Professionals in Dubai
Maintaining the books of accounts is mandatory for the UAE mainland companies as per the Commercial Companies Law and regulations of some free zones and laws of the tax like Excise & VAT. To comply with the regulations, the businesses need to have a highly qualified accountant irrespective of whether they are hiring an individual or outsourcing to the best accounting & bookkeeping firms in Dubai. Be it n in-house accountant or services provided by accounting companies in Dubai, the professionals should possess some of the qualities listed in the blog.
While hiring an individual, it is hard to ensure all such qualities and that is why businesses outsource their requirements to reputed accounting & bookkeeping companies in Dubai such as Jitendra Chartered Accountants (JCA). JCA is one of the most reputed accounting firms in Dubai with years of experience in assisting thousands of clients from a variety of sectors. JCA's highly qualified Chartered Accountants assist the businesses by delivering reliable accounting & bookkeeping services in Dubai. JCA is a one-stop solution for accounting & bookkeeping, auditing, VAT filing, etc. By availing JCA's accounting & bookkeeping services in Dubai entrepreneurs can ensure business growth.